Try our water and wastewater themed activities at home!
We only recommend activities if they are:
•  Safe 
•  Fun / engaging
•  Easily set up and cleaned up
•  Student-centered, that don't rely on frequent adult input
•  Conducted with items already in the home (not food or important supplies)
•  Easily understood, without lots of instructions
•  A good mix of screen and non-screen activities
Please scroll to see our activities.
Raindrop project
Children of all ages are invited to join our Raindrop project. Help us collect raindrops from across our region - Axedale, Boort, Chewton, Dunolly and beyond! It's an easy and fun activity that gets children thinking about where their water comes from and how it is used. Send in your raindrops and they may be shared on our Facebook page and website.  
1. Watch our Rhythm of the Rain story time video (with activity introduction)
2. Print the raindrop sheet (152.8KB)- or make your own - and complete the sentence:
My raindrop is __(how is it being used?)___ in __(your town/city)__. 
For example,
My raindrop is in my water bottle in Trentham. 
My raindrop is watering my sunflower in Bealiba. 
In the raindrop shape, draw a picture that describes your sentence. 
3. When complete, photograph or scan your raindrop sheet and email it to communications@coliban.com.au.  Parents and carers, please note images may be shared on Facebook or our website. Writing a first name on the activity page is optional.

Storytime Collection
Colouring sheets
These can be used as a water conversation starter, quiet time activity or both!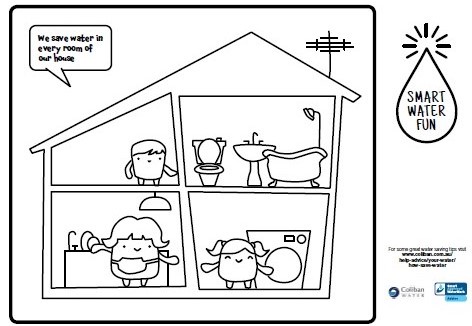 The Australian Water Association has water- and sustainable development goals- themed colouring sheets available here.
Kindergarten 
Water Heroes at home
Did you know a Water Hero is someone who uses water carefully and makes tap water their main drink?
Print our Water Hero booklet (829.4KB) with signs and suggestions for becoming a Water Hero. 
Adult help is recommended for cutting out signs. Customers in our region are invited to share a photo of your Water Hero in action at home - we'll send out a cape!  Images may be shared on social media.  Send photos to communications@coliban.com.au.
Primary school 
Water Cycle Unit
Learn about the water cycle with a mix of online and hands-on activities: 
3 Ps Unit - coming soon
Help us look after our wastewater system and environment by only flushing poo, pee and toilet paper!  Unit coming soon. Email communications@coliban.com.au if you would like us to notify when the unit is available.
Print some puzzles
Our fun and educational Coliban Water Activity Book (PDF 3.3MB) is available to print!  You may prefer our 5 page version (PDF 539.42KB) to reduce printing.
Activity book answers are available here.
Secondary school
Melbourne Water welcomes you to take a virtual tour of the Western Treatment Plant. Experience the Western Treatment Plant in all its glory... minus the smells!  
**Please note in our region we use different terminology:
water treatment plant: water is cleaned before it is supplied to cities and towns
water reclamation plant: wastewater is cleaned to be released into the environment, used for irrigation or further treated for the recycled water network.
Last updated on 13 May 2020