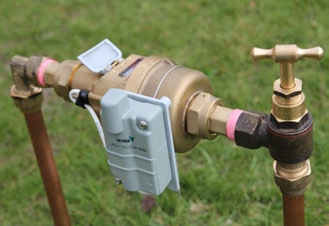 We're adding digital data loggers to all existing urban water meters to record water usage for billing and data analysis.
Data loggers will help us:
quickly detect potential leaks – to save you water and money
take more accurate meter reads when we can't access your meter
spot abnormal water usage patterns
We're working towards making data from digital meters available to you online so you can monitor your own usage.
Timeline
The Digital Metering Program involves 4 stages over 6 years.
Stage 1
We have completed installation of around 1,400 data loggers in:
Trentham
Wedderburn
Korong Vale
Wychitella
Mysia
Borung
We will manually read water meters in these towns until data from the digital meters have been verified. We will notify you before the data loggers are used for billing.
Stage 2
We are installing digital meters in Rochester and Boort from June to August 2019.
Other towns receiving digital meters in Stage 2 are:
Bealiba
Cohuna
Dingee
Dunolly
Echuca
Elmore
Goornong
Gunbower
Inglewood
Jarklin
Laanecoorie
Leitchville
Lockington
Macorna
Mitiamo
Pyramid Hill
Serpentine
Tarnagulla
What to expect
A digital data logger will be added to your existing water meter.
It takes less than 30 minutes to install
It's free to install
It won't cost you any money to maintain.
We'll notify you in writing of the installation. You won't need to be home as long as there's safe and clear access to your meter.
Your water supply won't be affected during installation.
Find out more
To learn more about our Digital Metering Program, see our Frequently Asked Questions (PDF 155KB), our Digital Meter Brochure or contact us.
Last updated on 23 Aug 2019