Every third week of October, National Water Week inspires individuals, communities and organisations to build awareness around the value of water. Access to clean water is hugely important to our daily lives, and it's down to all of us to protect our water environments and resources, and use water wisely.
Reimagining our Water Future is the 2020 theme. As our population grows, this will put more stress on our water resources, so how can we reimagine the way we use and reuse water to ensure there's enough of it in the future? How can we rethink our current water practices to help conserve valuable water resources? What can we do as individuals and as communities to inspire a more sustainable water future?
Events
Join students and communities across Victoria to learn about water at our Online Learning Festival. 
Register here to have the full program sent to your email in early October.
Preview of events:
Video announcement of state winners of the water poster competition!
Eaton Gorge Theatre Company will be performing a popular water show online for use in classrooms or remote learning.  The show promises to be a cartoon like, vibrant and energetic experience with plenty of humor and a touch of silliness.   Show runs for 30 minutes and follow up activity ideas will be provided. Available for 2 weeks on demand. Perfect for: Kindergarten – Grade 4
Curious Creatures, Wild Minds Book Week interview with award winning author and illustrator Meg Humphrys.  Meg will be talking about her book, When Water Lost Her Way, which features the water cycle and a very curious creature – a cave salamander!  We are particularly interested to find out how Meg combined her interests in art and science to create a fictional story about a scientific process.  Suitable for Upper Primary.
What else can you expect?
There will be water-themed storytimes, experiments and mindfulness videos from amazing educators from across Victoria
A Reimagining Our Water Future matrix with a variety of activities for students of all ages, all learning styles and across multiple curriculum areas
Sessions that are suitable for secondary students or the general community
Get involved and register
All activities are free of charge and the links will remain available after the festival.  Some sessions will be live broadcasts.
Coliban Water schools and kindergartens, please register HERE to participate.  You will be emailed a program of events in early October 2020. 
We have some copies of When Water Lost Her Way to give to the first Coliban Water region primary schools that register!
Poster competition
Coliban Water and the Australian Water Association (AWA) are calling for students to enter the annual poster competition.
There are some changes in 2020, so please read the information carefully.  
We are delighted to announce there are now 5 categories: 
Foundation           Years 1 and 2           Years 3 and 4           Years 5 and 6             Student with a disability
The 'student with a disability' category is open to those enrolled at a special development school or students in a primary school setting who self- identify as a 'student with a disability'.
Streamlined entry process
The entry form is available as a word document - you can save time pre-filling fields before you print. 
Teachers can sign the 'Contact Person' section. We will follow up with teachers of regional winners to provide a parent or legal guardian signature to proceed to state judging. 
Online entries are permitted; if teachers are submitting their class' entries by email please contact us - we need to be able to clearly identify which entry form belongs to which poster. 
Entering the poster competition is a great IT project, for example using Adobe Spark to create a poster.  Watch this webinar from Digital Learning and Teaching Victoria to find out how.
School prize
All participating schools go in a random draw to win a $150 grant towards a sustainability project, purchase of water efficient products or educational materials.
Student prizes
Regional winners and placed entrants receive water prize packs. Regional winners in each category win a book from a local bookshop and are automatically entered into the state competition.
At the state competition winning students from each section will be awarded $150 for first prize, $100 for second place and $50 for third. The winning student's school in each category will receive $300 for a winning entry, $200 for second and $100 for third to be used towards a sustainability project or sustainability resources.Winners announced in National Water Week. 
Judging criteria
How well does the poster communicate relevant water-related issues? (water efficiency)
How attractive does it look from a distance? 
Have art materials been used effectively? 
Does the poster use innovative imagery, design or concepts?
Entry conditions
Paper and digital posters, A3 or A4. Any art material and digital technology can be used, including paint, textas, coloured pencils, collage materials, original photographs & digital graphics. Group artwork will not be accepted (only one student per artwork).
An official entry form must be securely attached to the back of each poster (no paper clips) or via PDF for online entries. 
Entries close 5 pm, Friday 18 September 2020. *ENTRY DEADLINE EXTENDED*
Post or email (scanned poster or photograph OK) to:
Coliban Water, 37 – 45 Bridge Street Bendigo 3550 or communications@coliban.com.au.
For further information please contact Alice on 0419 765 879
Entry form and criteria (Microsoft Word, 622 KB)
Entry form and criteria (PDF, 609 KB)
Short film competition
AWA also run an annual National Water Week short film competition for primary and secondary students. They ask a question based around the theme of National Water Week and get students to answer in a creative way. There are lots of cool prizes up for grabs so it's a great activity in the classroom or at home. Stay tuned for more details soon. 
Resources
AWA has a list of water resources, including Indigenous water, water cycle, flushing water and saving water
Kids Teaching Kids Director Arron Wood presents a documentary about the innovations in water management since the Millenium drought. He talks with farmers, town planners, irrigators and park rangers, tours the desalination plant, goes underground at the MCG and learns more about the Werribee sewage treatment plant, to see how recycled water is being used for industry and in new housing developments.
Recycled water use in our region
See how they save water at the Blue House.
2019 poster competition
Region winners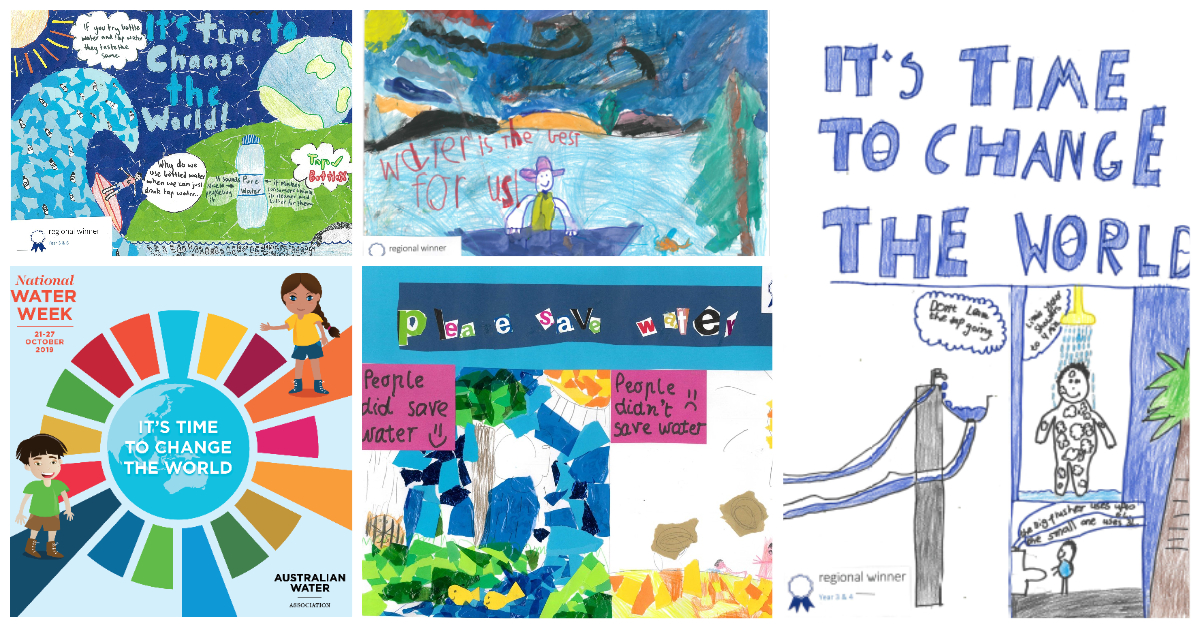 State winners
Last updated on 11 Sep 2020